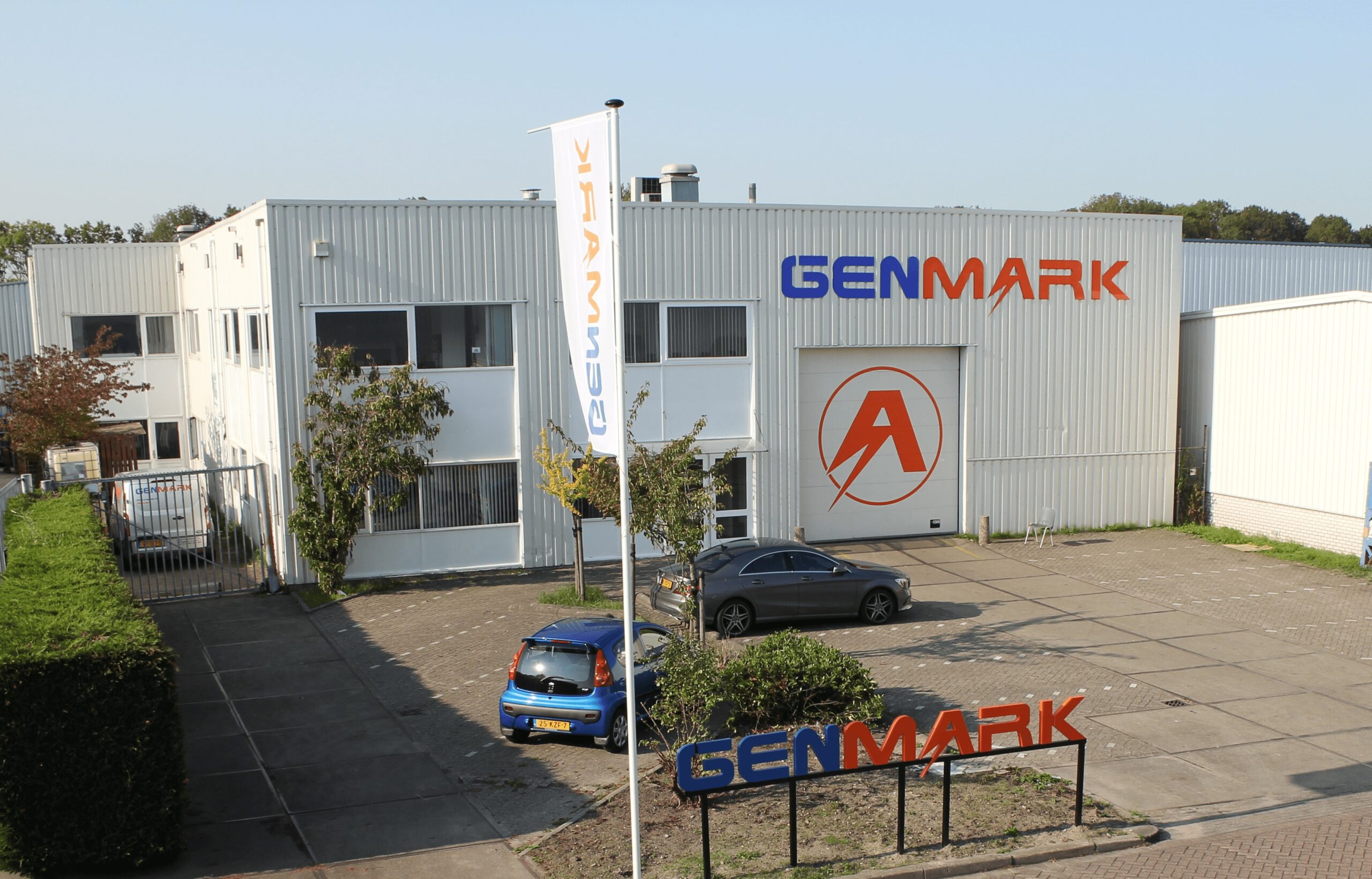 If you take a look over the past years, you can see how Genmark grows. 
Jim Vodegel, Managing Director, tells us about all the steps taken by Genmark to become a major player in the market.
Let's start at  the beginning.
Why did you start Genmark?
When I was still the owner of Seamark Reefer Service, I had the opportunity to buy a large batch of refrigerated containers which I was able to resell directly.
Trademark Leasing & Trading was created as part of this operation. With the money earned through this sale, we began to build our first generators. We went down this road because the models of generators sold in Europe, at that time, were well suited for American chassis, since they were built for- and came from the United States, but turned out to be far too large for European chassis. In the beginning, in order to limit costs, the first models we developed were manufactured and assembled in South Korea.
At such a distance, how was the collaboration going?
Production in South Korea was no problem. The UM3 and MS3 produced and assembled there prove to be very robust and strong. To date, these gensets are still in service. However, not all international collaborations did started well. This was the case with, for example, the clip-ons that we had produced in India. I flew over to see the facility myself.  When I arrived at the factory, the prototype was still drying  in the oven.  After a few hours I was able to test the clip-ons. It only took me two minutes to realize that these sets were totally unusable. All parts were crooked and the welding was very bad, the paint was horrible, and the diesel tanks were real "strainers".
You laugh about it now, but you must have been , at the time, strongly disappointed?
It was indeed a 'heavy downer' at the time. In retrospect, Now I think that was exactly the eyeopener we needed. That's where the foundations, of what Genmark stands for today, was laid. After the India-debacle, we decided to do as much ourselves as possible, with one goal in mind: to make top quality products. Later we also stopped production in South Korea. Although the quality was than satisfactory, we decided, despite everything, to bring the production back to the Netherlands. This gave us more control over the quality, but certainly also over the delivery times.
What has changed since then ?
From that moment on we worked very hard to do everything in-house. We started building the MS4 ourselves, without having planned anything on paper beforehand. This resulted in a very good learning curve. With the knowledge gained from this experience, we first (re)designed and calculated everything for the 5 Series before starting to build. We learned and professionalized very quickly. I have to say that getting in touch with the right parties and suppliers – who are still our partners today – helped us very much.
"I  BARELY REALIZED THAT 5 YEARS HAD PASSED"
Which partners were you working with at the time?
At the time we decided to relocate our production to the Netherlands, we met Ed Smith from Smith-Europe, the market leader for maintenance and repair services for refrigerated containers and generators. Smith Europe decided to invest. From there, we were able to move into the same building and use part of the workshop. Smith-Europe remains an important partner and operates as a service point for our generators in the Netherlands. Besides Smith Holland we also work with TIP Trailer Services. We have trained all of their European branches so that they became Genmark's service centres.
What was the advantage of doing production in own management?
This is the best decision we have made so far. Our engineers develop superb units, which we assemble in our own workshop. I am proud of our team and the way we guarantee top quality products from the Netherlands, day in and day out. I firmly believe that investing in quality is the best way to continue to our growth.
Since we are talking about  growth, where will Genmark be in 5 years?
We will then be the undisputed number one in Europe, with a global brand profile and active on all continents. In addition, Genmark will develop  at all  levels, including  the level of its staff, both in the workshop and in the offices. I also think that in five years' time we will be occupying larger premises somewhere in the port of Rotterdam. And we will be on the path to sustainable innovation. Within 5 years, Genmark will be the first to introduce a hydrogen-powered generator. We will always remain at the forefront of technology in the  generator set sector !
What choice to make if, tomorrow, investors knock on  your door with a huge bag of banknotes?
In this case, we will treat ourselves to a delicious meal at Rose Garden restaurant, after which I will send them home. I'm  far from done with Genmark. Far from it : we have just started. I look forward to continued growth and innovation in the years to come, along with our fantastic team. I wouldn't miss that for anything in the world !
"WE WILL ALWAYS BE AT THE TOP"